Okay, I'll be honest. I don't LOVE pie. Pie filling? Yes. Pie with a nice crumble topping? Cool. But most pies have too much gross crust which does nothing to satisfy a someone who has as much of a sweet tooth as I do. So if you're anything like me, here are some great alternative ideas to mix it up this Thanksgiving.
With a cookie crust and fancy apple arrangement, this Apple Blossom Tart is  like a BETTER apple pie.
Some people say pie is better than cake. Those people are wrong. One-up everyone at your holiday gathering by making this delicious Toffee Crunch Cake.
We all know Apple Cider Donuts are the best part of apple picking, why not bring it to the desserts table this Thanksgiving?
Sometimes it's good to be basic, as this Spiced Pumpkin Latte Cheesecake proves.
Um. This Chocolate Brown Sugar Butter Cake with Spiced Pumpkin Frosting. It combines everything good in the world. Make. Eat it. Love it.
These Salted Caramel Chocolate Chip Mini Cheesecakes might be bite-sized, but I guarantee people will be grabbing more than one bite.
Make this Double Layer Pumpkin Oreo Cheesecake once and people will be begging for it again for future holidays to come.
Has anyone in the history of the world ever gone wrong when cream cheese frosting is involved? This Apple Spice Cake with Cinnamon Cream Cheese Frosting sure didn't.
Thanksgiving is basically the only holiday where this Pumpkin Mousse is thematically appropriate, and I encourage you to make the most of it.
Cranberry Apple Crisp. It's like a delicious crumble pie without the unnecessary crust bottom.
These Caramel Apple Trifles are the most dessert-y version of a traditional caramel apple and way more heavenly.

These Apple-Cardamom Cakes with Apple Cider Icing use applesauce to give you a moist cake without adding more fat, something that really counts around the holiday.
If you make this Cinnamon Crunch Bread Pudding for Thanksgiving, can I have an invite to your gathering?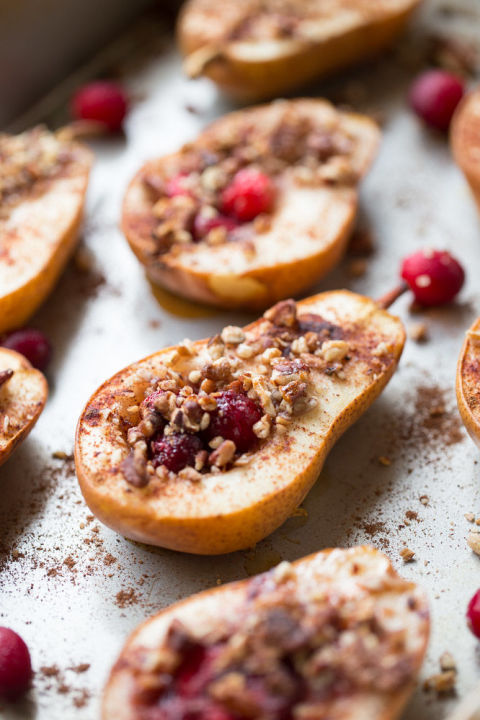 These Baked Pears is a moderately healthy treat (for dessert), but will still satisfy your cravings for sweets.
Say bye to sweet potato pie, and hello to Sweet Potato Spoon Bread with Caramel-Pecan Topping.

No-Bake Pumpkin Cheesecake In a Jar: No baking for you, but this super cute packaging will make you seem wicked classy.
Honey Pound Cake will get you points for creativity and deliciousness.
Combine two classic fall flavors with this Pumpkin Pecan Cobblers.
It may be cold outside, but no one in their right mind is going to say 'no' to this Pumpkin Ice Cream.
These Mini Chocolate Ganache Cakes had me at 'Ganache.'
via Country Living